Steal Her Style - Celeb Maternity Looks
FREE SHIPPING OVER $75 AUD
Maternity-wear can be a tricky path to navigate. Nobody (and I mean NOBODY) knows just how their body will carry during pregnancy so it can be super tough to prepare your wardrobe well in advance, especially with SO many other more important things at hand! (Ummm HELLO! Like growing a little human!)

We've sourced our Top Celebs Maternity looks that work for all shapes and sizes, to give you the low-down on why their stylists got these outfits oh-so-right. We'll also give you the inside scoop on how to replicate these a-list looks yourself!



---
Something that our girl Chrissy Teigan NAILS during pregnancy is this chic layered trend. Keep it simple with a silhouette-hugging, stretch or knit dress and let your layering style make the statement.

For casual styling, try lightweight, breathable denims, linens or cotton capes and dusters. To elevate the ensemble for something a little dressier - pair your staple stretch dress with a satin trench like Chrissy or one our glam resort wear capes such as the Some Nights Cape!

This trend is super easy to replicate and will be a hit during all stages of pregnancy (and beyond!)



---
A silhouette that has been replicated time and time again by our fave celebs is the Empire Waistline. If it ain't broke… why fix it?

By bringing the waistline upwards under the bust, you give your figure more shape and accentuate that gorgeous growing bump of yours.

A look that can be easily adapted to the current season, we love how easy breezy and above all else - comfortable - this silhouette is! Angelina and Candace show us just how versatile this look is, from a boho street-style to a red carpet worthy ensemble!



---
Looking for a baby shower gift?
Why not grab a Gingham & Heels Gift Card for your nearest Mumma-to-be.

She can shop 'til she drops and feel gorgeous in the latest new arrivals. We will have her looking great, feeling comfortable and loving all the new changes in her body, as a result.

Plus, it's the gift that will keep on giving; she can wear her new outfit now and after baby's arrival.



---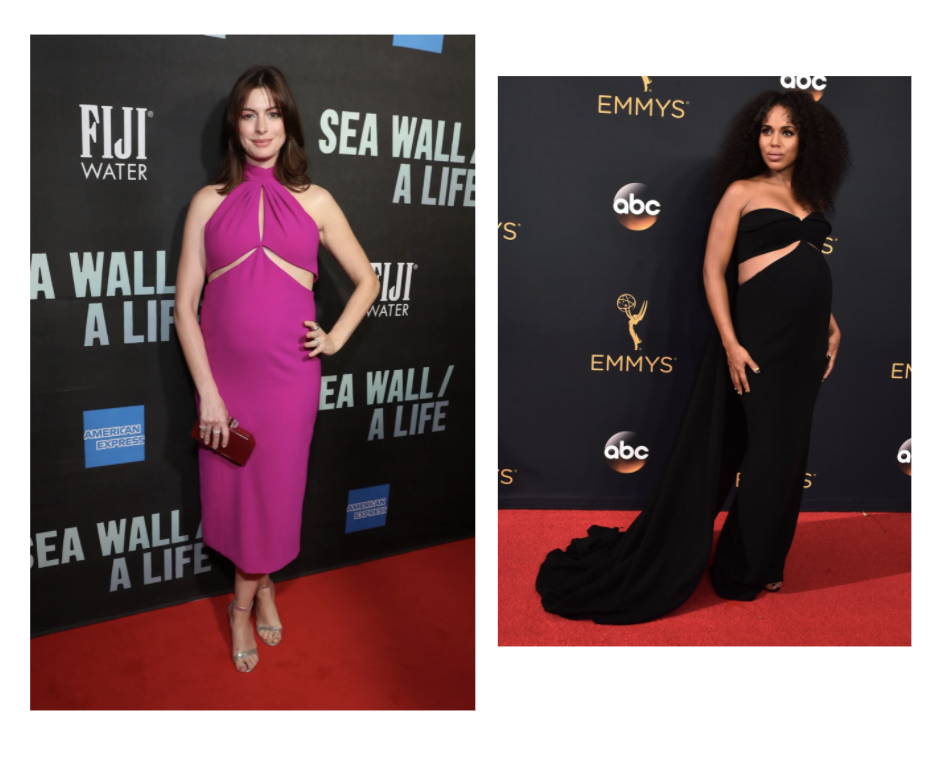 Yes… you heard me right! CUT OUTS!

This is a trend that is so big this season, but don't think just because you're pregnant you should miss out on all the fun!

We love how these ladies of Hollywood have adopted the trend during pregnancy. Cut Out placement is the key to keeping this trend flattering and chic.

You want to be on the lookout for cut outs that swoop out from the centre bust and under the bustline like Anne and Kerry. The aim is to accentuate the waist and create more shape to your figure similar to an empire waistline just a little more 2021.



---
Don't ditch the idea that you can't wear something short and sweet during pregnancy.

These high-profile figures have kept their maternity looks fun and flirty by wearing a-line dresses that float down, over their bumps, made extra cute with a busy floral print!

We love this trend for those days when you really just aren't feeling yourself, try throwing on something that will distract the eye away from your bump and up to your glowing face - you will instantly feel a million bucks! Trust us. Because looking and feeling confident in yourself is super important during this rollercoaster time of emotions. We got you.


---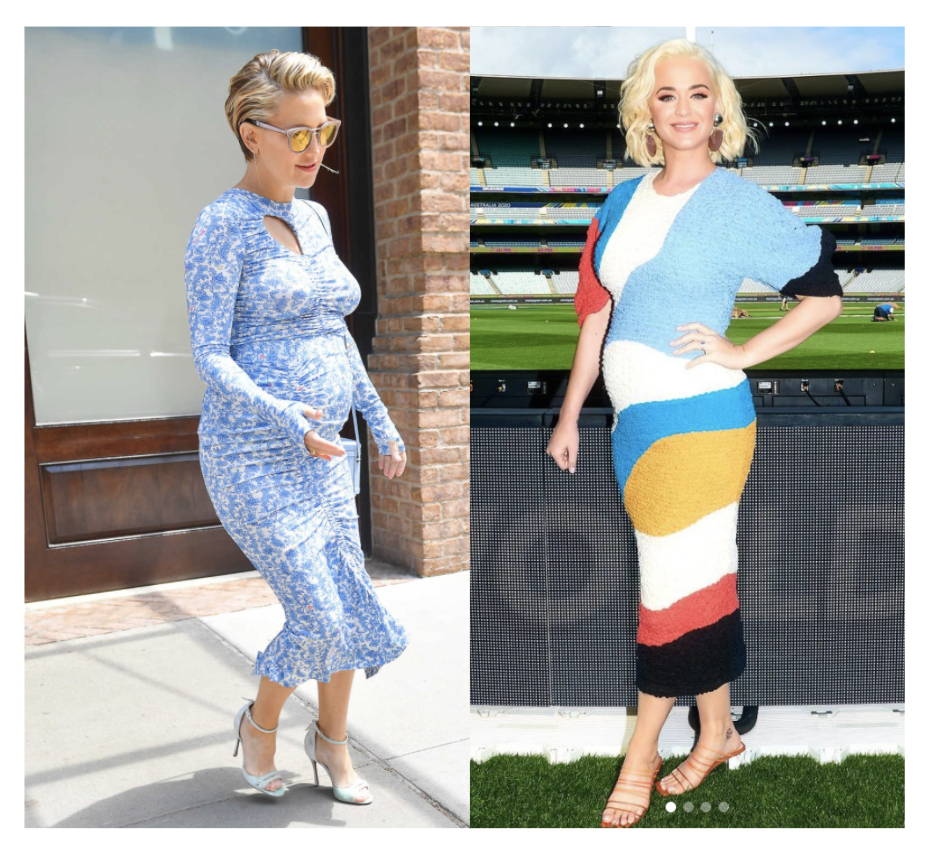 Keep it confident like these leading ladies who are taking the stretch dress to a new level - by introducing texture.

We love how Kate Hudson's dress flatters her body with the incorporation of ruching. Katy Perry on the other hand has gone for a highly textural knit fabric - while different these both create an optical illusion to the eye and blurs lines - LITERALLY. Texture is definiely your friend when you need it to be, great for smoothing out those lumps, bumps and harsh lines.


---
Take it from these A-listers, pregnancy fashion is CHIC and your hottest accessory is your bump!

Show it off, and wear it proud! By applying these few tips and tricks you will be glowing inside and out. So which celebrity's style are you stealing?

Tell us in the comments below and let us know which celebs you want to see more of!

Until Next Time
xx Maddie



---
Want to see more of our blogs?
Sign up below to hear about our latest blogs as they go live. gh
0 comments