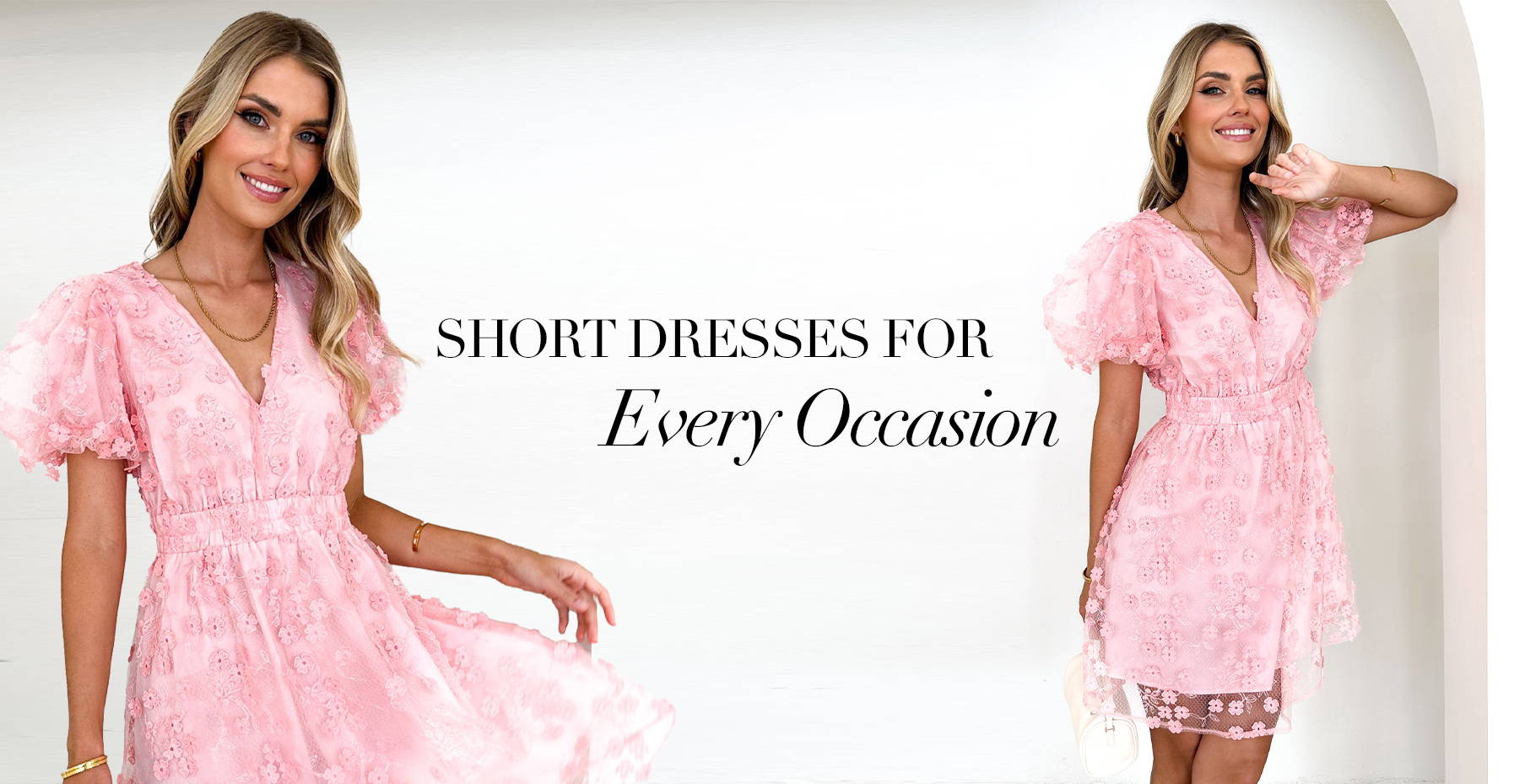 Short Dresses for Every Occasion

Short Dresses for Every Occasion

Dresses are undoubtedly the epitome of femininity and grace. Short dresses, in particular, are a versatile addition to your wardrobe, perfect for various occasions. Whether you're going for a casual outing, a relaxing beach day, a romantic date night or a lively party, there's a short dress to suit your style and the occasion. Let's explore the perfect short dress options for each of these scenarios.

For casual outings like brunch with friends, shopping, or a leisurely stroll through the city, you want a dress that's comfortable yet chic. A simple shirt or denim dress can be your go-to choice, or you can opt for well fitted dresses with abstract prints to add a touch of sophistication.
These dresses are easy to wear and pair well with either sandals or heels, depending on the occasion.

Beach Day: Breezy and Boho

Beach Day: Breezy and Boho

A day by the beach calls for a dress that's light, airy, and embodies a joyful spirit. Opt for a very simple, casual dress or a flowy, bohemian-style dress that will privilege comfort. These styles allow you to soak up the sun and feel the sea breeze while still looking stylish.
When it comes to colours, go for vibrant tropical prints, pastel shades or plain ocean hues. Pair it with flat sandals, a beach bag and don't forget a swimsuit underneath for a quick dip in the ocean!

Date Night: Romantic Elegance

Date Night: Romantic Elegance

For a romantic date night, a short dress can help you radiate confidence and elegance. A classic little black dress is a timeless choice, while a colour like pink will add a little more romance.
Opt for one with a flattering silhouette, such as an A-line or wrap dress. Lace details, embroideries or a plunging neckline can add a touch of glamour without going overboard.

When it's time to hit the dance floor or celebrate at a lively party, a short dress can be your statement piece. Puffy sleeves, lace and bold colours are all fair game.
Experiment with bold patterns and texture for added drama. High heels can give you that extra height and a boost of confidence. Don't forget to add some statement jewellery, and a clutch to hold your essentials, and you're ready to dance the night away!

In conclusion, short dresses are a versatile addition to your wardrobe, capable of elevating your style for any occasion. Whether you're embracing casual chic, boho vibes, romantic elegance, or party glamour, there's a perfect short dress to match your style and the event's atmosphere!