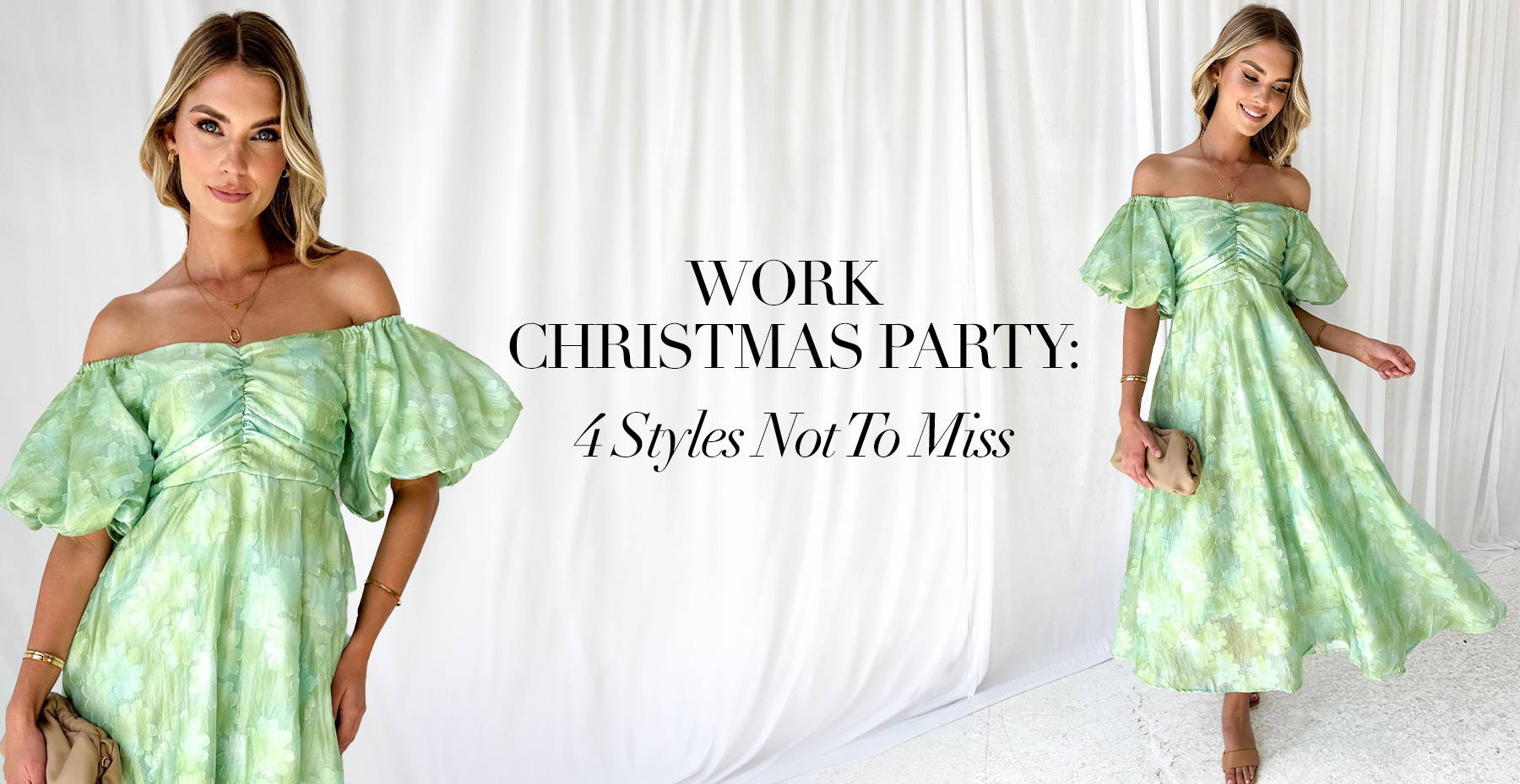 Work Christmas Party 4 Styles Not To Miss

Work Christmas Party: 4 Styles Not To Miss

With Summer and all its festivities coming up, that means one coveted event for many of us: the annual work Christmas party!
Whether it's a formal corporate gathering, a cruise on a boat or a fun-filled soirée, dressing for this special occasion can be a lot of fun but also a bit challenging. You want to strike the perfect balance between festive and professional.
To help you navigate the holiday dress code, here's a guide tailored to different types of work Christmas parties.

The Corporate Christmas Party

The Corporate Christmas Party

For the more formal corporate Christmas party, a classic, elegant look is key. Opt for a sophisticated knee-length dress or a pantsuit. Darker colours such as deep red, emerald green, or classic black exude professionalism. Accessorise with subtle, yet sparkly jewellery and a pair of elegant heels. Keep your makeup understated and your hair polished.

If your workplace decided to take the festivities to the water, you'll want an outfit that's comfortable, stylish, and suitable for potential sea breeze. A lightweight, flowy maxi dress or a breezy mini are a great choice. Don't forget a pair of comfortable sandals or wedges, a sunhat, and a stylish cover-up for the cooler evening.

For a casual and laid-back holiday gathering, don't be afraid to let your creativity shine. This is the perfect occasion to wear a dress in a fun, whimsical print or extravagant details. Accessorise with festive earrings, a small handbag or purse, and let your hair down, both figuratively and literally!

The Fashion Christmas Party

The Fashion Christmas Party

If your workplace is known for its trendy and fashion-forward celebrations, this is your chance to show off your style. Opt for a fashion-forward dress that makes a statement. Puffy sleeves, sculptural figure lace and other delicate details are your go to. Experiment with unique accessories and don't be afraid to try a bold hairstyle or makeup look. This is the time to shine, so go all out!

In addition to the dress code specifics for each type of work Christmas party, here are some universal tips to keep in mind:
Pay attention to the venue: The location of the party can influence your outfit choice, so consider factors like temperature, terrain, and atmosphere.
Dress comfortably: You want to enjoy the party without constantly adjusting your outfit. Make sure you can move, sit, and dance with ease.
Mind the details: Shoes, accessories, and grooming can elevate your look. Don't forget to match your handbag, and ensure your makeup and nails are on point.
Consider a layer: If you're wearing a sleeveless or short-sleeved dress, bring a stylish jacket or shawl to keep warm once the sun goes down.
Whatever type of work Christmas party you attend, remember that it's an opportunity to celebrate the year's accomplishments, bond with coworkers, and enjoy the festive spirit. So, have fun, be yourself, and shine in your chosen attire! After all, it's the season to be jolly.