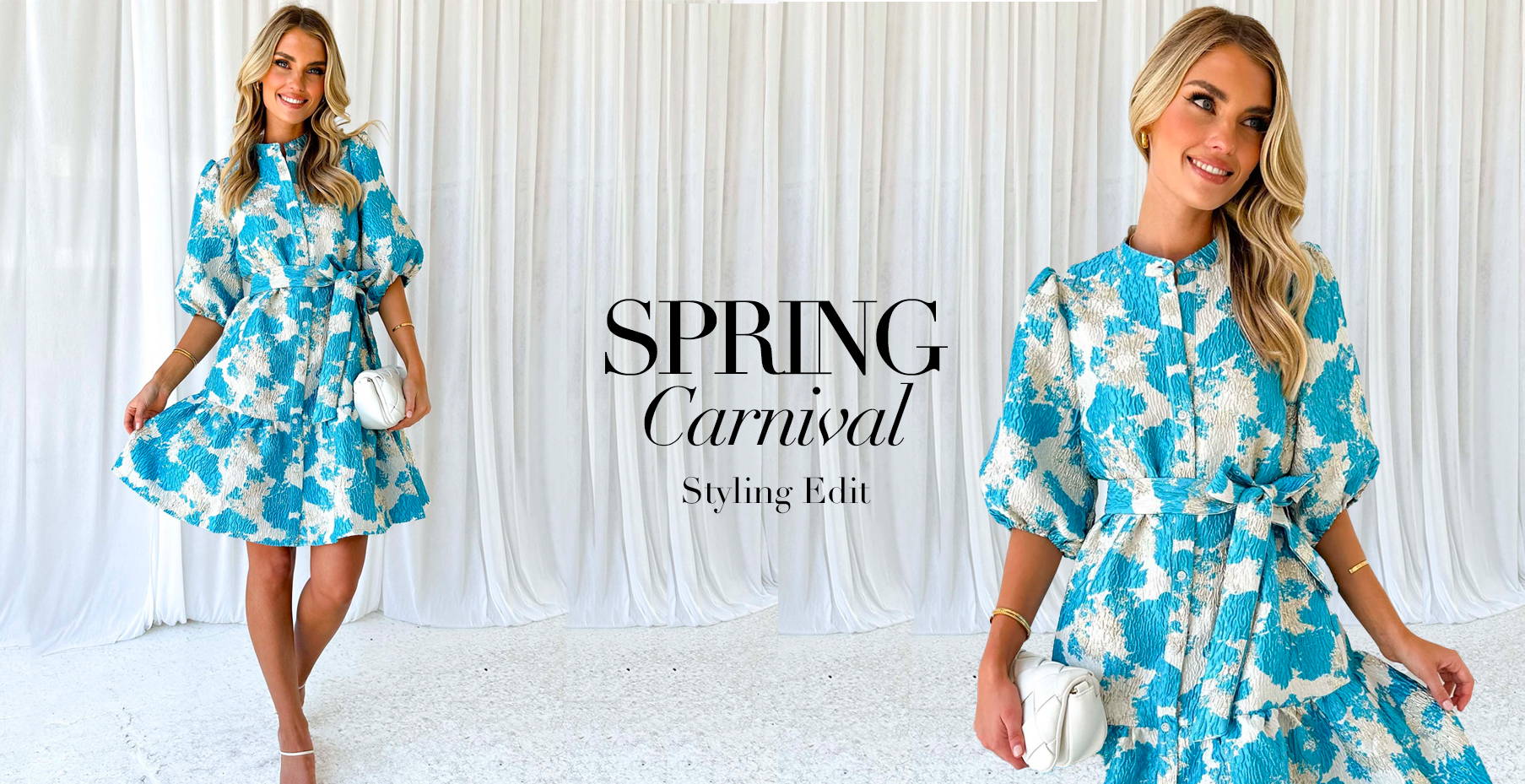 Spring Carnival: Styling Edit

Spring Carnival: Styling Edit

The Spring Carnival is upon us, and it's the perfect excuse to embrace your inner fashionista. Whether you're a seasoned racegoer or a first-timer, dressing up for this iconic event is always a thrilling experience. To help you stand out in the crowd we have curated a Spring Carnival Styling Edit to ensure you know the latest trends and style tips to make your race day outfit a winner.


Embrace the Floral Frenzy

Embrace the Floral Frenzy

Spring goes hand in hand with blooming flowers, making florals a must-have for the Spring Carnival. Floral prints in soft pastels or bold and vibrant colours are a fantastic choice. Opt for a floral dress or a two-piece ensemble. These outfits exude freshness and elegance, ideal for a day at the races.

Race days are the perfect occasion to experiment with vibrant hues. This season, pastels and bold primary colours are your go to. Consider a pastel pink, sky blue, or mint green dress for a soft and graceful look. Alternatively, go bold with a fiery red or royal blue outfit.

Opt for Classic Silhouettes

Opt for Classic Silhouettes

While it's tempting to go all out with a statement look, classic silhouettes are a timeless choice. A well-tailored maxi dress, a fitted bodycon dress, or a sophisticated pantsuit can make you look effortlessly chic.

Accessories can make or break your outfit, so choose wisely. Delicate gold earrings or pearl hair accessories will compliment pretty much any outfit and colours. As for bags, opt for a clutch that matches your shoes for a cohesive look. Sunglasses are a must for sunny race days and never forget the importance of a race day fascinator.

Now, go ahead and enjoy the races, knowing that you've got your fashion game on point!